Climbing up the search engine results pages (SERPs) can often feel like an insurmountable challenge, especially when you're just starting out. 
You're googling keywords and phrases relevant to your business, those that you're certain your target audience are searching for too. But just scrolling through the results doesn't tell you much. 
Are the current pages ranking for those keywords actually the best ones? How difficult will it be for you to occupy a spot on page one? Are there any hidden gaps and problems that you can identify and use to your advantage?
Advanced SEOs and those with considerable subject matter expertise can dig into third party tools to answer these questions. But we created TopicRanker for the layperson — to make it ridiculously easy to spot SERP weaknesses and address those to capture search demand.
Let's take you through a guided tutorial of what we mean.
Prefer a video walkthrough? Check out this seven-minute overview explaining how TopicRanker drives results for your business 👇
Getting Started With TopicRanker
When you log in, we prompt you to input your URL. This gives our algorithm the opportunity to parse your site and understand its niche and topical relevance.

For the purpose of this tutorial, we'll be analyzing the website falconriver.co — an online brokerage that helps people buy and sell businesses. Think of it as an alternative to marketplaces like Empire Flippers, Flippa, and MicroAcquisitions.
Plugging the site into TopicRanker gives us a starting point — our robots uncover multiple 'seed topics' which we can use for further research.

What's a seed topic you may ask? It's one of the building blocks of keyword research. For example, let's assume that you run a store selling gym equipment. Using that seed topic, we can identify other related keywords such as home gym, kettlebells, and squat racks. These will help you finetune your research.
For this tutorial, let's select 'find a business for sale' as it is one of the seed topics that TopicRanker identified which is relevant to Falcon River.
To reiterate, the seed topic 'find a business for sale' is not the end keyword we suggest. Our robots believe this is a topic worth investigating further since it's relevant to the business. TopicRanker will make further analysis on this topic, with the aim to uncover relevant keyword suggestions and SERP weaknesses.
Here's what the algorithm found: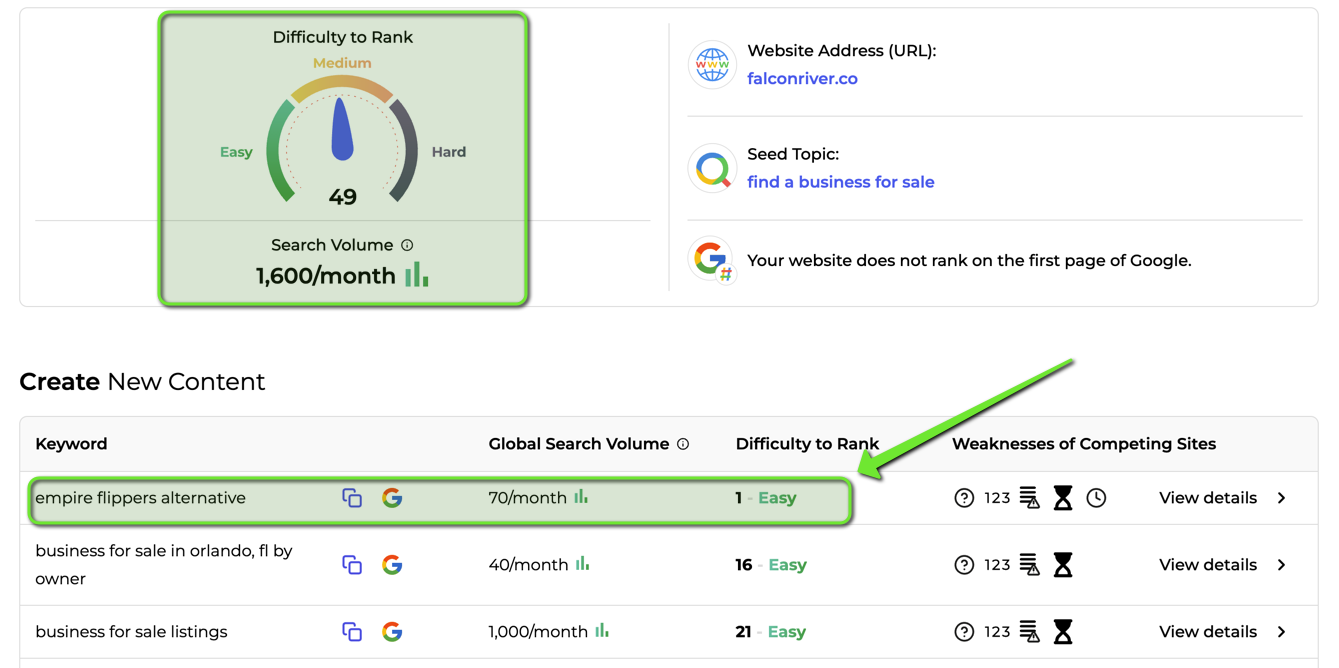 We start by giving you the estimated searches for the head keyword, followed by content suggestions that fall under that parent topic.
Note that this isn't the entire list — we detail harder to rank keywords further down, too. 
And we won't inundate you with keyword suggestions — our topic model analyzes both your website and keywords with specific problems to suggest winners.
Diving Into The First Report
Using the same example — keywords from the seed topic "find a business for sale", we uncovered 'empire flippers alternative' as a potential search query to target.
And why is that exactly? We detail that in the tab 'Weaknesses of Competing Sites'. 

Each icon refers to a specific SERP weakness:
❓—> missing keywords in the meta title
🔢—> low word count for primary result
🟰—> poor readability
⏳—> page loads very slowly
🕜—> page is outdated
Note that all 5 icons only come up when there is a glaring weakness in the SERP. As keywords get harder to rank for, our robots may only show you one or two icons. But more on that later. 
Next, click on 'View Details' for a more comprehensive analysis:

We reveal the top 10 results and highlight as many problems as we can find in the SERP: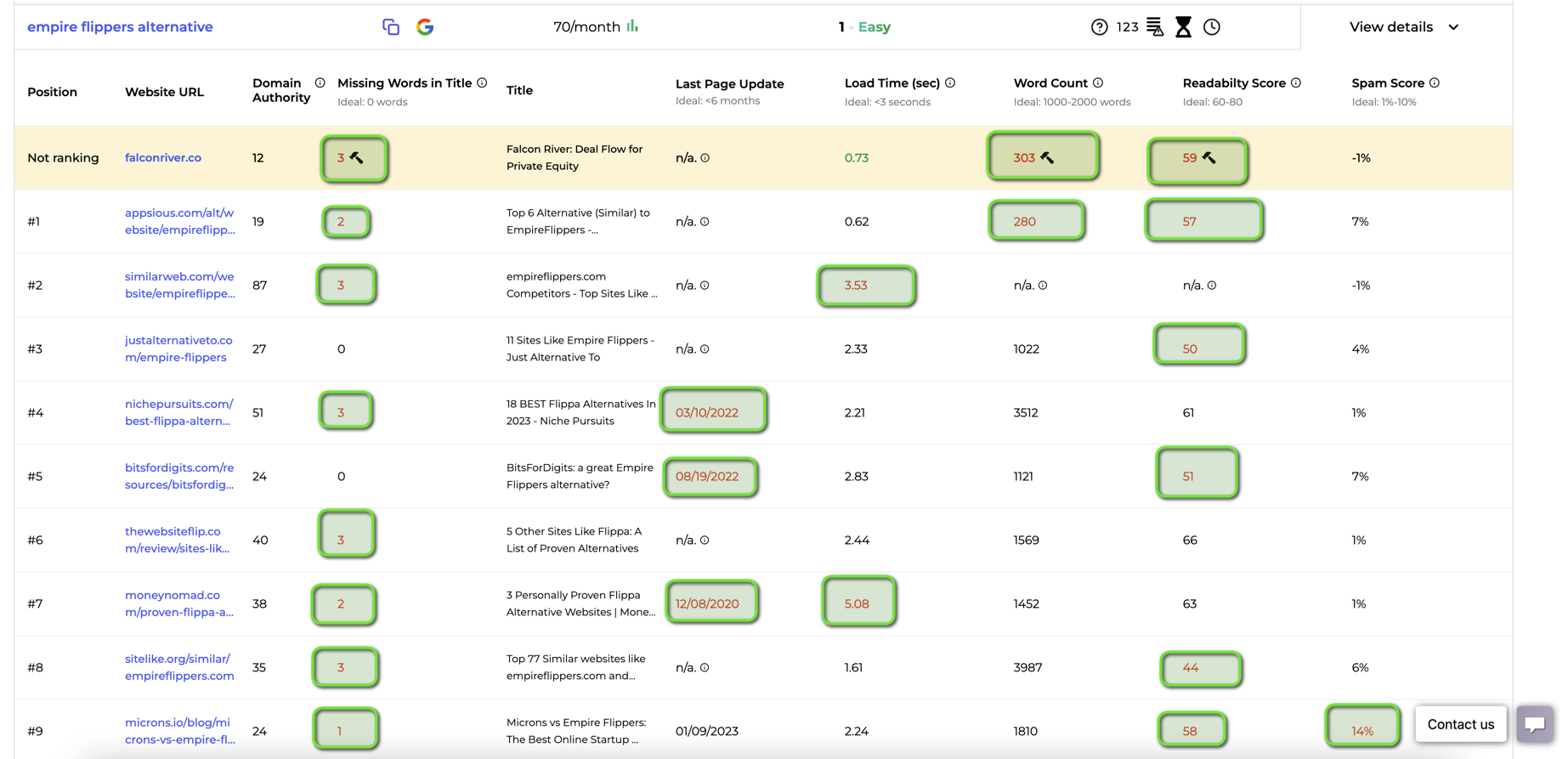 Topic Ranker's algorithm believes this is the best opportunity keyword for Falcon River, due to these specific SERP issues.
There's a real opportunity for you to dive in and attack this search query — it's poorly optimized and the chances of ranking are excellent.
Clicking the Google icon will display the SERP for that keyword in a new tab, so you can see for yourself, too.

Explaining SERP Weaknesses
As we've touched upon multiple times already, our primary aim is to help you find weaknesses and problems in the SERPs. 
But what are these weaknesses and why do they matter?
Let's take a closer look.
1. Missing Keywords in Meta Title
The Meta Title is the headline for each webpage — one that shows up in the search engine results page.
Relevant keywords in the meta title help both search engines and humans understand the page's content.
Irrelevant or missing keywords reduces clickthrough rate and leads to a frustrating search experience.
For example, let's examine the 'empire flippers alternative' search query — which TopicRanker determined had missing keywords in the top-ranking results.
This screenshot is a live SERP example — as we notice, the second and fourth top ranking results don't have the keywords we're looking for.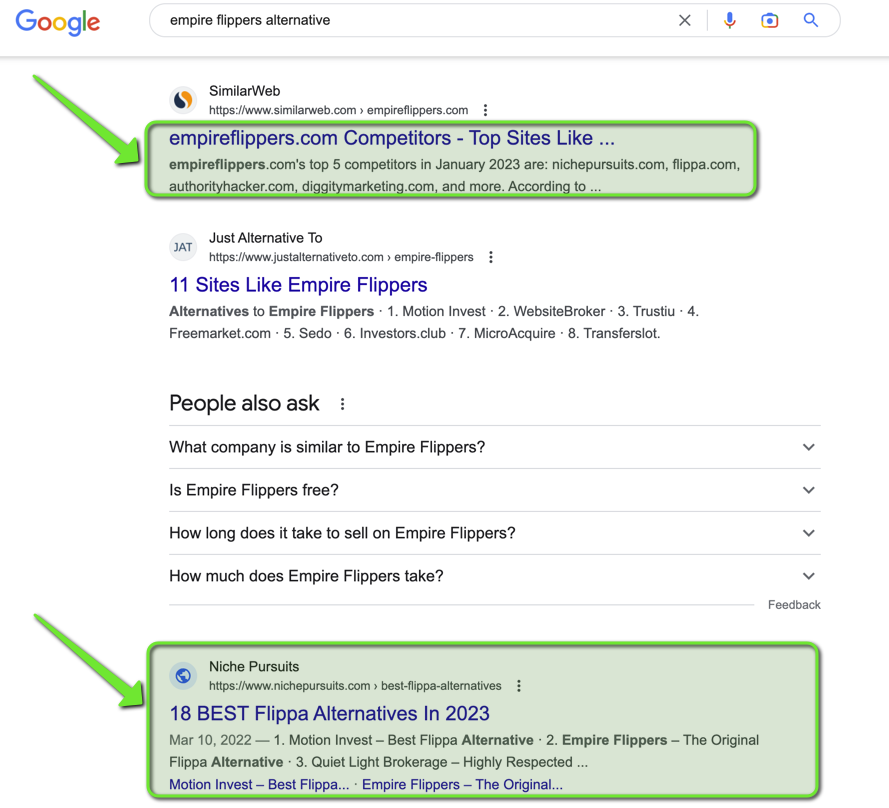 SimilarWeb's page is about competitors — similar to alternatives, but not an exact match.
And Niche Pursuits, the fourth-highest result, talks about Flippa alternatives — meaning it's not what searchers are looking for.
Key Takeaway: There's a search intent mismatch — giving you the opportunity to capitalize!
2. Word Count
An ideal length for articles to rank well on search engines is anywhere between 1,000 to 2,000 words.
More content is fine, too, but a low word count suggests that the content is thin and won't provide the best answer for search queries.
When examining the #1 search result for 'empire flippers alternative', it's clear that the article needs more work.
The first thing you see when you land on the page are mostly advertisements.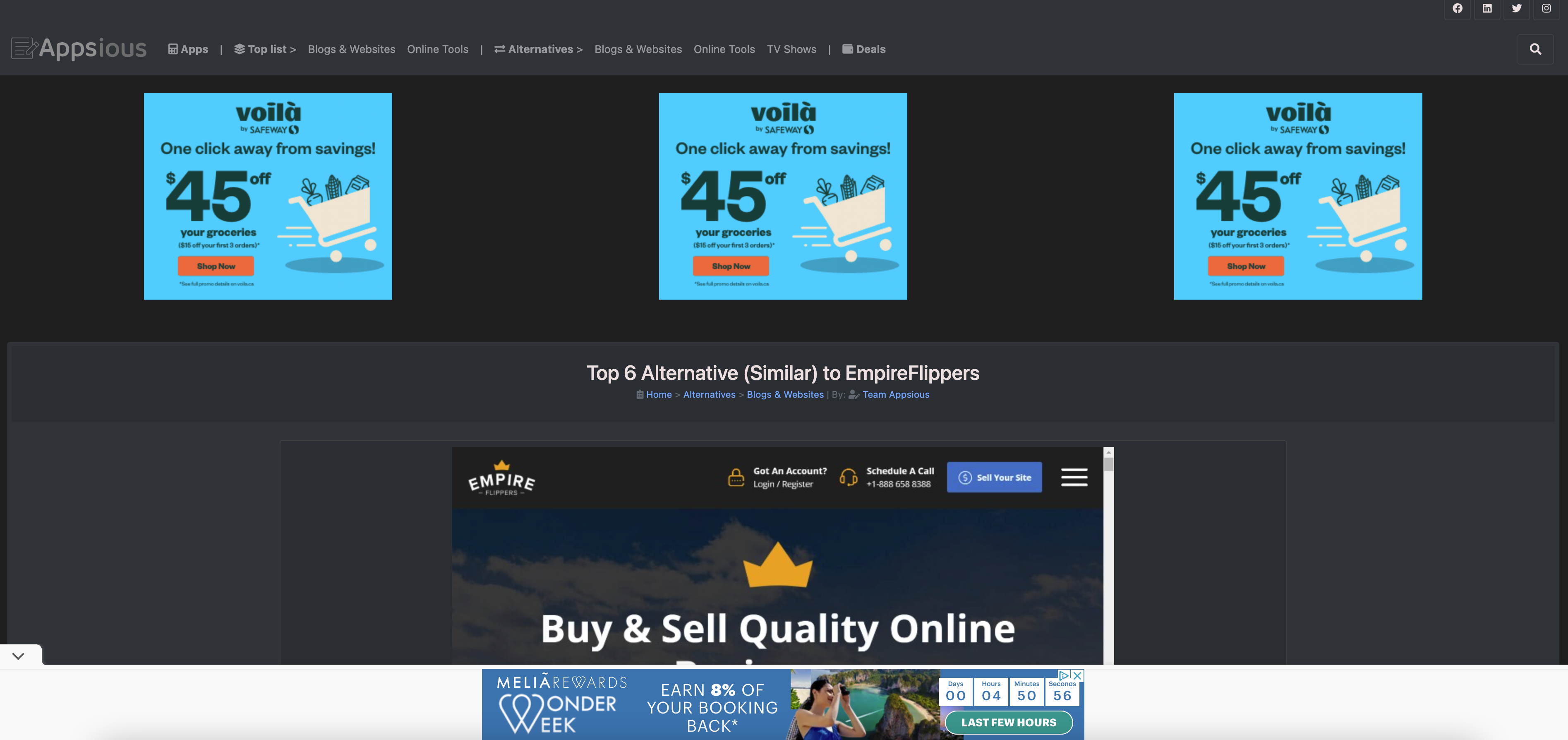 As you scroll down, the rest of the article isn't much better either: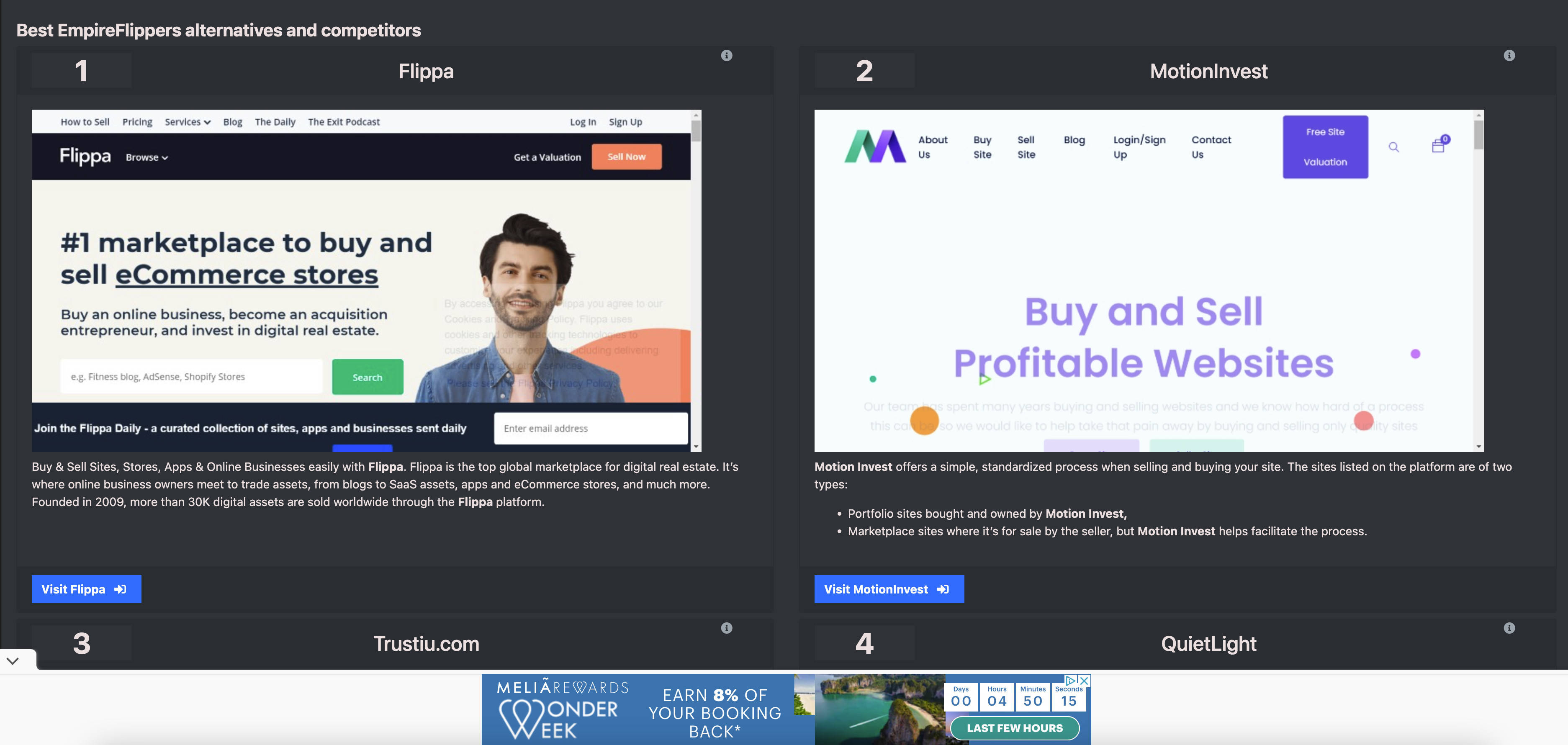 It's mostly poorly-written text with little to no explanation of why these sites are recommended as an empire flippers alternative.
Key Takeaway: Thin content leads to a frustrating search experience. Google ranks this page because it can't find better ones on the internet. A glaring weakness in the SERPs!
3. Content Freshness & Results From Forums
The more recent the article, the more it is valued by search engines.
Why? Because posts over six months old can have outdated information that's perhaps not as relevant as it was when the article was first published.
For example, the #7 ranking article on 'empire flippers alternative' is a well-written post that's nearly 1,500 words long.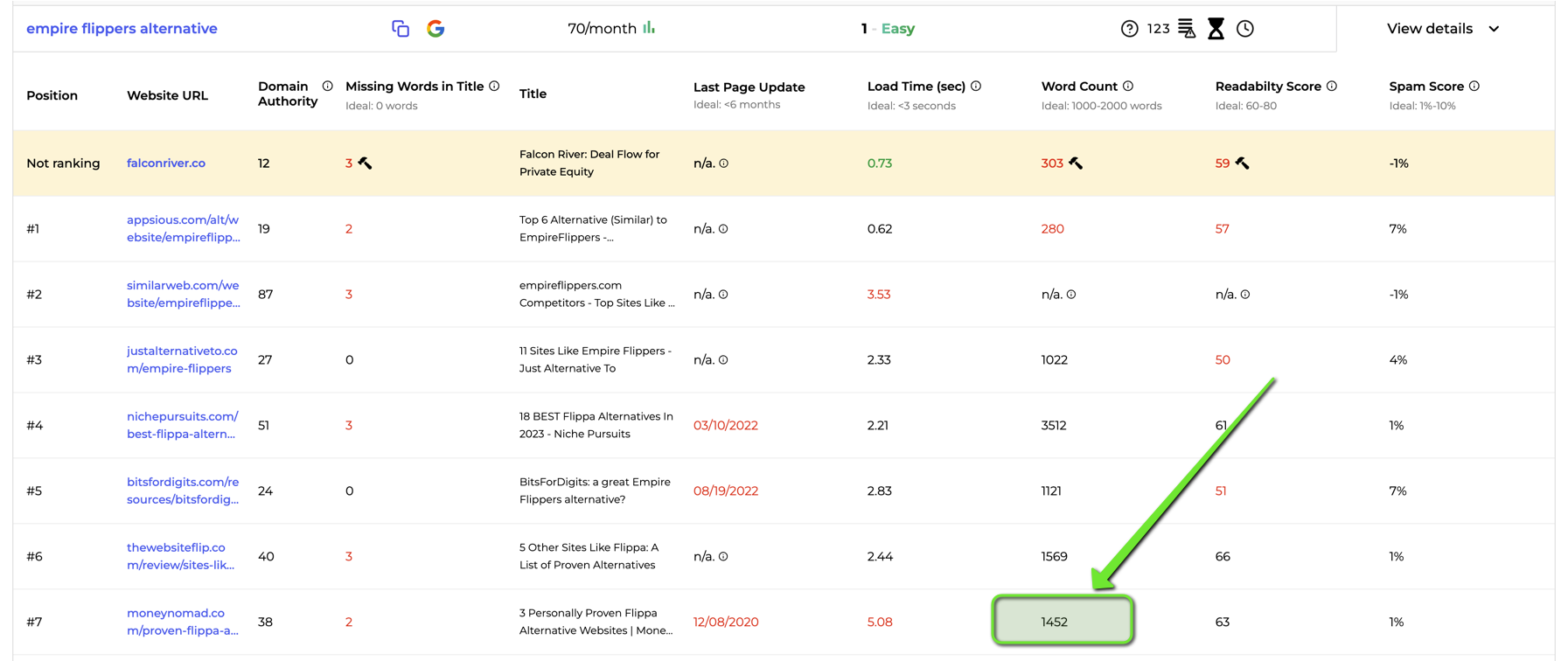 What's holding it back could very well be that it was published in 2020 and never updated since.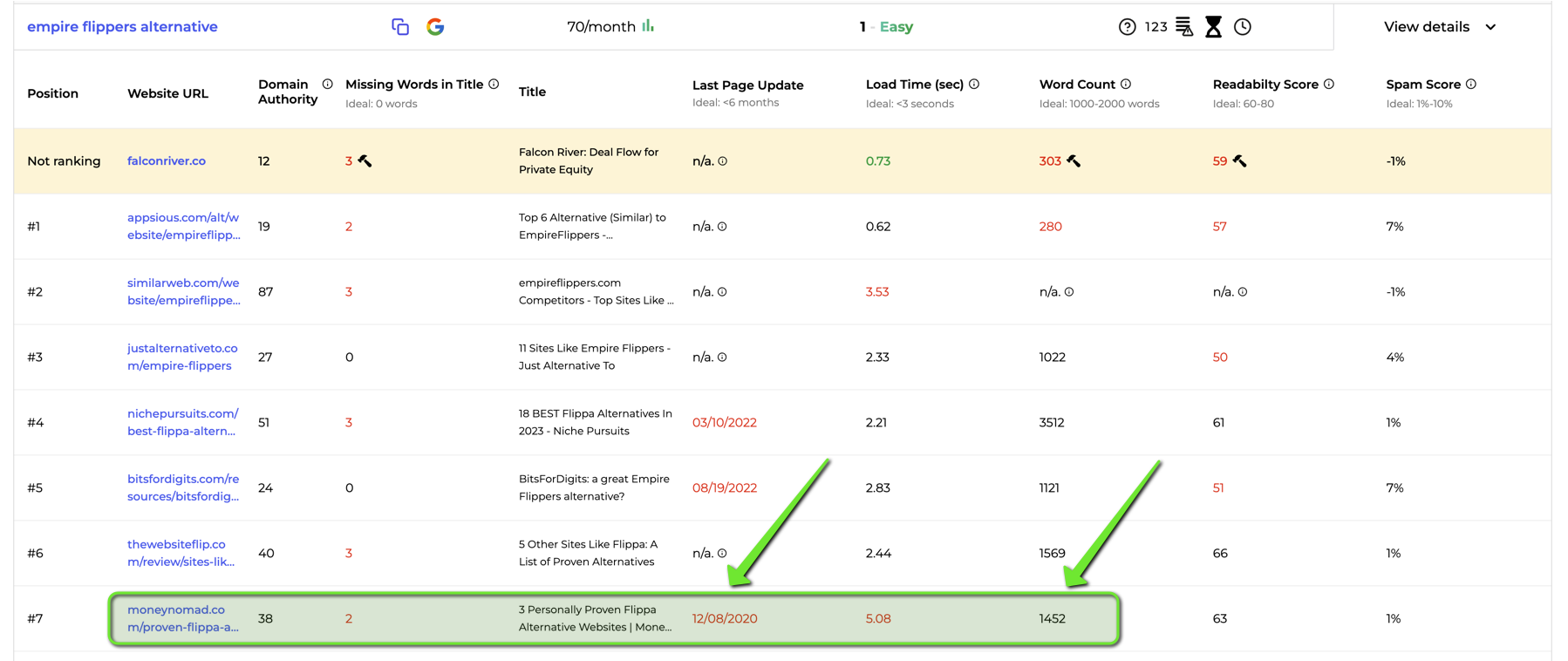 Yes, the article has other issues like missing keywords and longer load times. But content that's over two years old has likely started to become stale — and isn't deserving of a high spot in the SERPs anymore.
Key Takeaway: Capitalize on content that hasn't been updated in a while. Present the most up-to-date and in-depth result and the search engine algorithms will reward you.
Another weakness we highlight at TopicRanker are results from forums, such as Quora and Reddit. 
Search engines tend to deprioritize these pages, because they're often short, succinct, and without supporting research.
For example, the #5 ranking query for 'empire flippers review' is a page from Quora.

That's another SERP weakness, and an opportunity for you to pounce on.
Key Takeaway: Results from forum sites are a leading indicator of SERP weakness. Move on them fast!
👉 Enjoying This TopicRanker Tutorial? Sign Up For Your FREE Keyword Report!
Don't Sleep on User Experience
Getting to the top of the SERPs isn't just about the right keywords, or an optimized meta title.
Keywords help, of course, but the best content is that which delivers a superior user experience.
Part of that is making sure that the page loads within three seconds and contains unique, well-researched content. Any site that takes over three seconds will likely see high bounce rates, or users closing the tab. 
That's why we aim to show both page load speeds and spam scores in our SERP weaknesses report.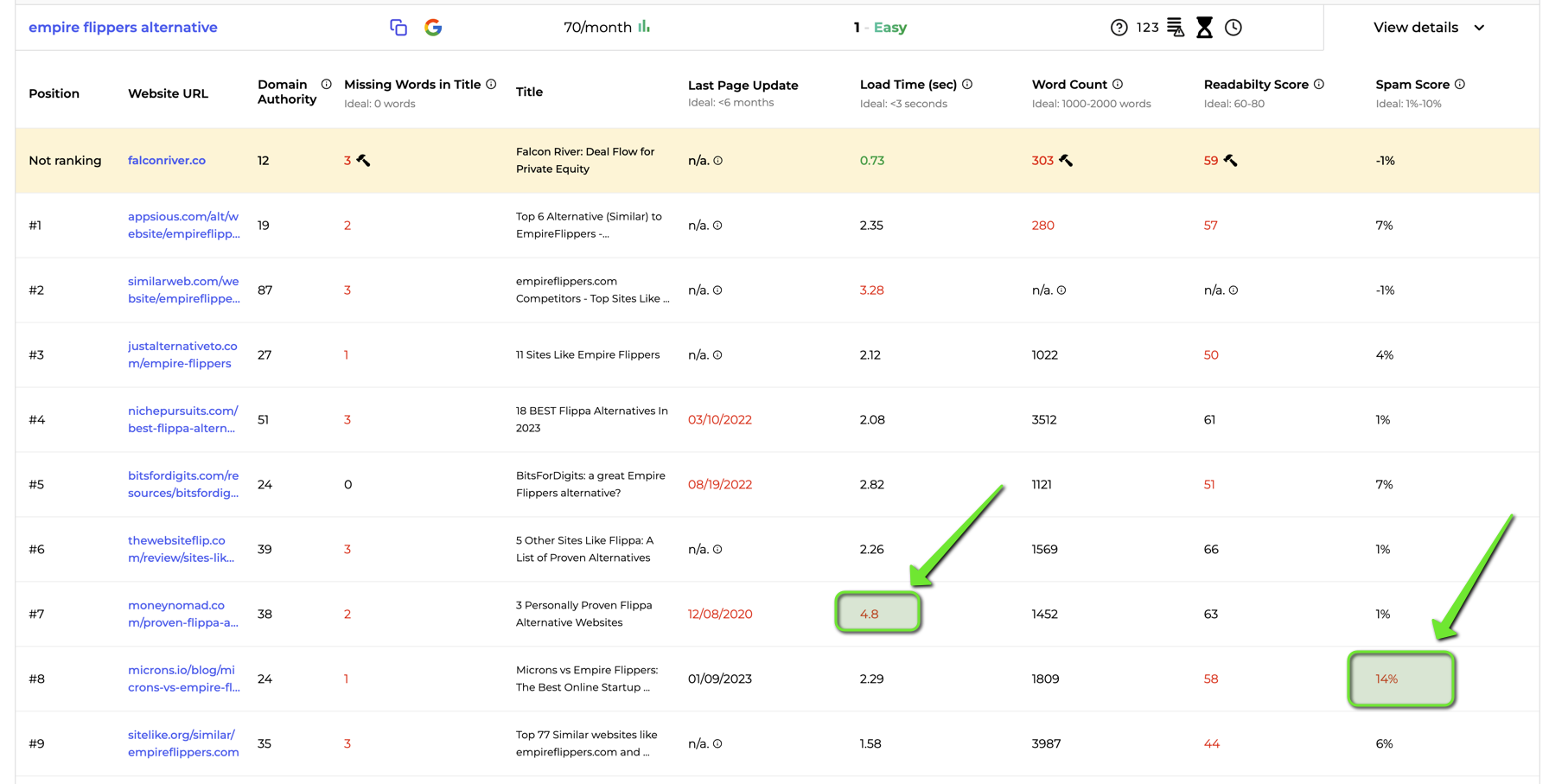 Ever since Google moved to mobile-first indexing, it's more important than ever before to keep an eye out for page load speeds. 
One way of doing that is to compress images before uploading with a tool like TinyPNG.
Another is to cut out any unnecessary Javascript on your page. 
Spam score is a way to understand whether the site is at risk of being penalized by Google. 
Key Takeaway: Optimize for stellar user experience — write great content and build a responsive website. Never try to trick the algorithm with copy-pasted content, intrusive ads, and frequent pop ups.
👉 Enjoying This TopicRanker Tutorial? Sign Up For Your FREE Keyword Report!
Creating Great Content
We're reaching the end of our TopicRanker tutorial, but the work isn't done. By now, you should have a good idea of the topics relevant for your website and SERP weaknesses to address.
The next step is to create world class content that satisfies search intent, incorporates relevant keywords, and provides a stellar user experience. 
If you picked a keyword and are ready to start writing an article the first thing you need to create is a content brief (an outline with all the needed details to start writing the article). 
If you prefer to create the brief on your own here's a resource from building world-class content briefs to pass on to your writers. 
And a library of templates that you can tweak to your requirements.
Otherwise – TopicRanker also offers a done-for-you content generation service priced at $50 per content brief. 
No AI or ChatGPT here, each content brief is researched and written by a real trained professional on our side.
If you're interested, book a time to chat and we'll get you set up. 
Osman Husein helps us educate TopicRanker customers with onboarding resources, email tutorials and articles on our blog.