Google's latest helpful content update took 15 days to roll out from August 25, 2022 to Sept 9th, 2022 and in my humble opinion is the most significant one to date.
I decided to run an experiment on TopicRanker blog (which has no authority at all) right as the update was being rolled out.
My focus for the experiment:
Find a SERP which has problems and weaknesses on it
Create and published the most helpful piece of content on the topic addressing these weaknesses.
I used TopicRanker to recommend a keyword I should target.  The general topic I wanted to rank for is "keyword targeting"  so I put that into the search bar:
One of the keywords TopicRanker recommended was: "which keywords are best to target" – 350/mo search volume. The weaknesses it found for this SERP:
Moz DA 8 and other low Moz DAs are on ranking in top 10 spots
Google web vitals poor for 3 results n the SERP
Reading ease score is poor in 4 results n the SERP
Topical depth is not great for 5 results n the SERP
Word count was below 1000 for 4 results in the SERP
Some content in the SERP was older than 6 months
I wrote an article targeting these weaknesses, I published it with a title: "Which Keywords Are Best To Target"  .
I optimized:
Google web vitals
Reading ease score
Topical depth
Guess what… it started ranking all on it's own within a week! I ranked without any backlinks or promotion!
I currently rank #1 for "which keywords are best to target":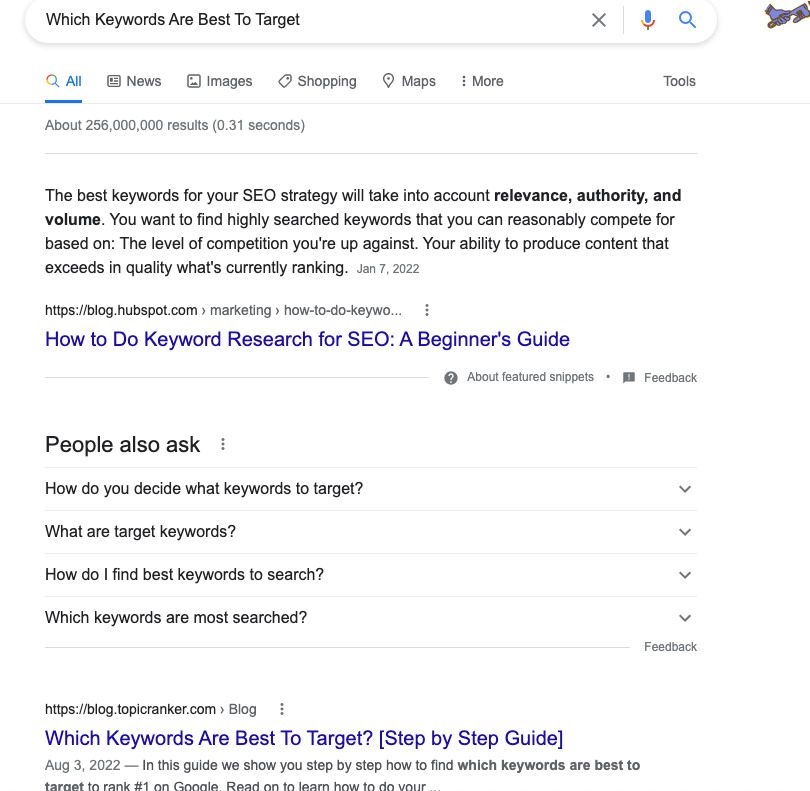 I was stunned.
I posted the entire process I followed to optimize it in my LinkedIn post here. and it received 5K+ views in 6 days.
Today I wanted to share the entire process I used to rank #1 here on TopicRanker blog. Here it is below, I'd love your feedback!
—-​
Here is a quick walkthrough of how TopicRanker.com finds weaknesses and problems with Google search results and recommends keywords you should target to easily rank on Google:
We focus on the following factors to find weaknesses and problems:
1. Readability of the content – score and analysis
2. Flesch Reading Ease score (needs to be around 7th/8th grade – fairly easy)
3. Topical depth of the content score and analysis
4. Whether title tag and introduction satisfies user search intent
5. Length and architecture of the article – are bucket brigades and bullet used? How often?
6. How often is the content updated – every 3 months? Every 6 months?
7. Page and speed experience on mobile
​
​
Here is the experiment I ran to test Google's Helpful Content Algorithm Update:
​
1. TopicRanker.com domain is brand new, we're still building the tool so we have no authority, we just launched the coming soon page and the blog four weeks ago. So it's perfect use case to test and see if quality content targeting weaknesses and problems in Google search results would rank well.
I used TopicRanker, I put in topicranker.com into the URL field and put "keyword targeting" as the term to find which keywords I need to focus on.
The keyword recommendation I received back was that I should target "which keywords are best to target" – with a global search volume of 350/mo.
TopicRanker found some major weaknesses and problems for this SERP – readability ease score was low, Google web vitals scores were low for a number of pages ranking high as well as topical depth was poor.
I worked on and published this article, first article on this brand new domain without any DA:​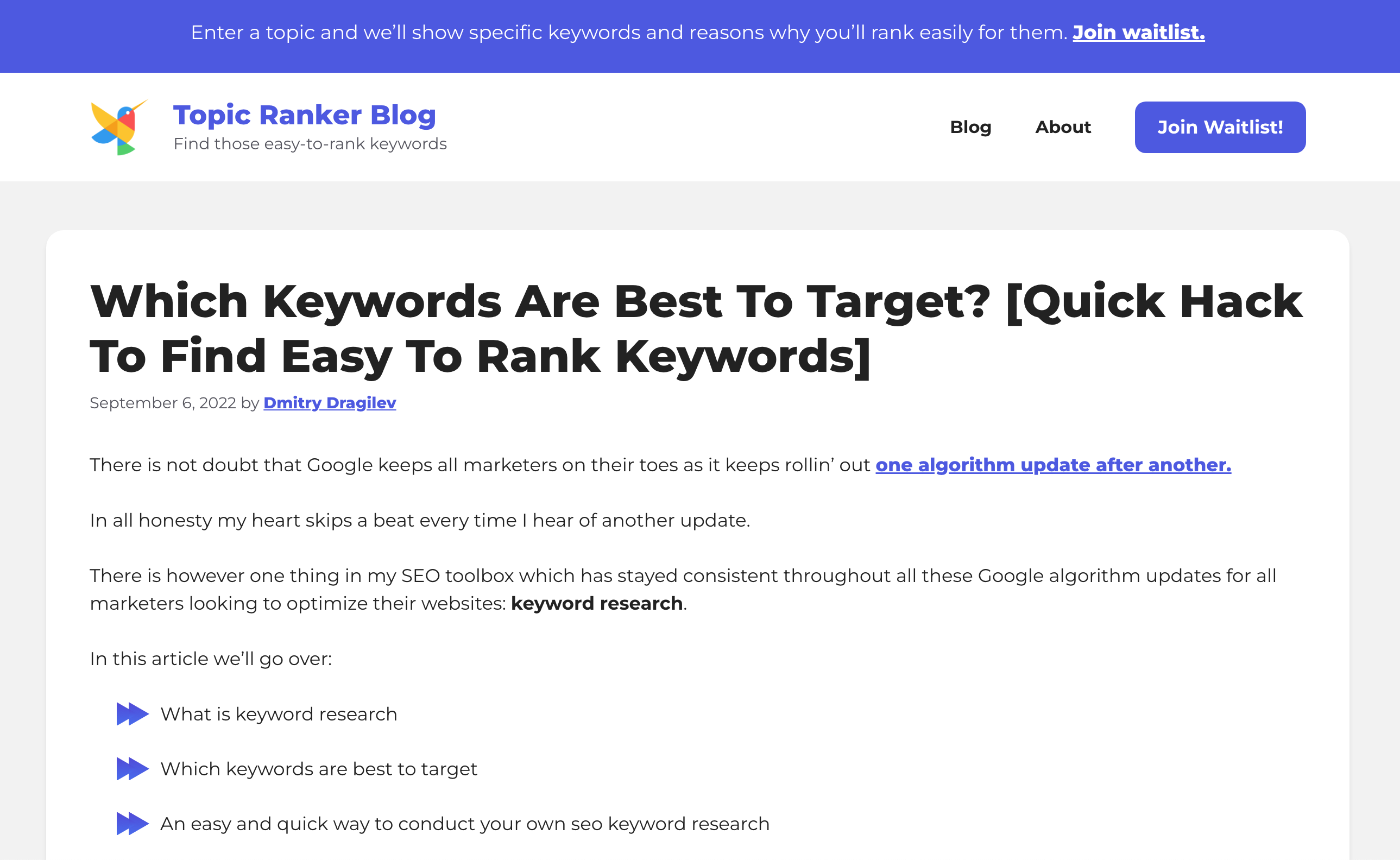 ​
​
2. The day after I published I ranked on Page 9 of Google for "which keywords are best to target" – decent search volume- 350/mo global.
​
3. My article was still scoring 14/100 on topical depth and 43/100 on Google Page Speed Insights and 20/100 on readability. Flesch reading score was 10th grade – which is difficult.
​
4. I optimized the topical depth to be 78/100 and readability to be 65/100. Also improved Flesch Reading Ease score to be 7th grade – fairly easy.
5. Next day I ranked in the middle of Page 3 for term "Which Keywords Are Best To Target" with these improvements! Just by optimizing these three things I shot up from Page 9 to Page 3! This was wild for me to see!
6. I then worked on my Google Page Speed on mobile. I improved it from 20/100 to 88/100.
7. Next day I jumped to ranking #7 on 1st page of Google for "Which Keywords Are Best To Target"
8. I worked on backlinks a bit from my personal blog and some friends as I promoted the article a bit more and guess what, I'm #1 now – right under Hubspot's snippet!
​
9. I now rank #1 for "Which Keywords Are Best To Target" – check it the screenshot of the SERP here.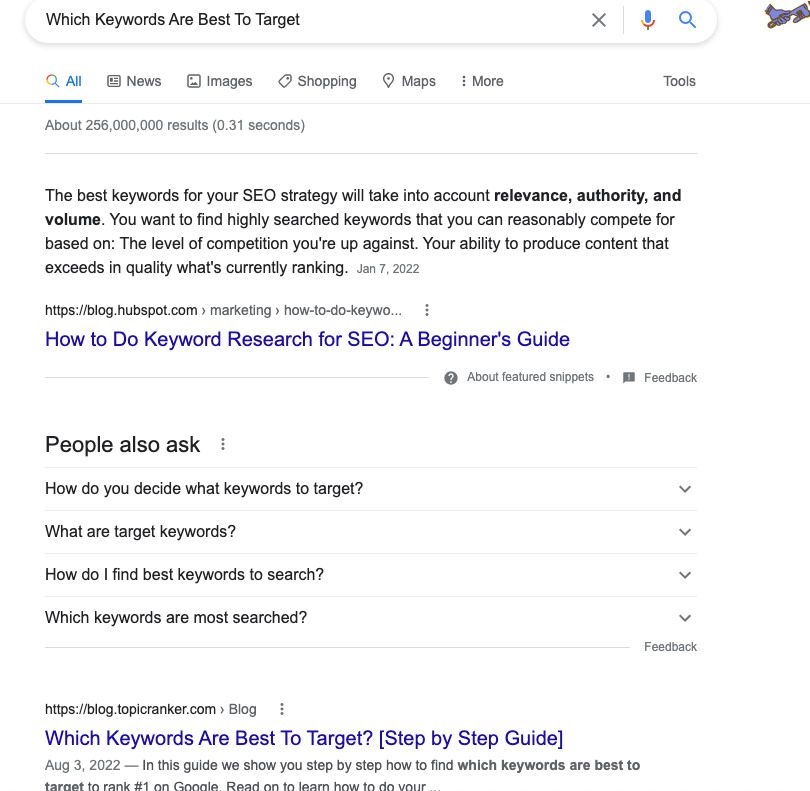 ​
​
Looking at this SERP my little tiny post on a brand new domain is outranking NeilPatel.com and Backlinko.com for this keyword – which both rank #8 and #9 with their posts.
​
I was amazed at how important quality of the content is to ranking!
​
​
Would love your feedback!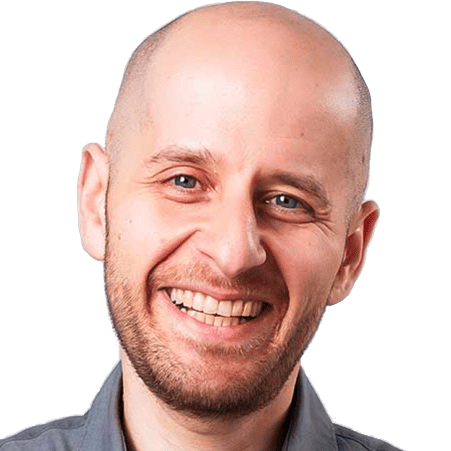 Dmitry is the founder of TopicRanker – a software tool to find problems & weaknesses on Google search results and discover keywords you can easily rank for with your website. Over the last 10 years, Dmitry has helped 300+ brands rank #1 on Google through PR and SEO. Dmitry used PR & SEO to grow a startup from 0 to 40 million views per month, and got acquired by Google in 2014. He translated his know-how into JustReachOut.io, a SaaS tool to get covered in press and build authority backlinks without PR firms; it's been used by 5000+ content marketers to date and was acquired in 2020.